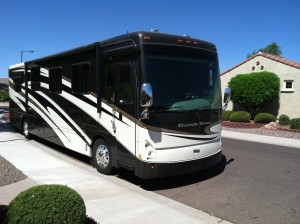 Our New Motorhome. 
After 6 months of research, bidding and missing out on motorhomes, we purchased a used Class A, 2008 Newmar Dutch Star Diesel Pusher with 29,000 miles at the end of June 2014 in Tucson AZ, from private owners. (In AZ they do not charge Sales Tax – 10%, for person to person, or in this case Montana LLC to a Trust, sales of vehicles, including RVs).
The coach rides on a 40′ Spartan MM (Mountain Master with side radiator) chassis with a Cummins 425hp IS-L engine with an Allison 6 speed automatic transmission, 3000 series. It has a fiberglass roof, 3 slide outs, two in the front and one in the bedroom, Oasis continuous hot water system and an RO system at the kitchen sink, a bidet installed on the toilet, (which we hate but hilariously it has fooled 3 people, including Chuck, Francis and Carl and sprayed fresh water on them). It has 2 roof A/C and a 42″ HDTV and Winegard Trav'ler antennae with a DirecTV HDTV dish (we had to buy the DirecTV DVR & a Blu-Ray player), washer / dryer and a queen size bed. It also has a 3 camera system on one large screen, one camera for backing-up that we leave on all the time, and one camera each side that turn on when you use the turn signal on that side – a fantastic option, and a Pioneer stereo with Sirius Satellite Radio.  And a 150-gallon diesel tank. (Currently averaging about 7.2 mpg of #2 diesel fuel).
It also came with several relatively small dents, missing clear coat paint on the top end and side caps and some bad paint where the previous owners tried, unsuccessfully, to hide some scrapes. It needed a thorough cleaning, inside and out, and feeding of the woodwork. It had been stored under a roof but without water in open containers for humidity that is needed for the woodwork in Arizona. We had to purchase many items from Camping World to outfit the coach for travel.
Just the vehicle to set out on our travel adventures. Follow along vicariously on our travels.
1268 Total Views
1 Views Today