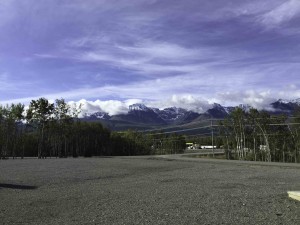 When we left Valdez in the morning it was beautiful. Hated to leave but we are on a schedule. On the drive back up the pass the weather turned blustery and overcast. By the time we got to Tok it was cold. 46 degrees and light rain. The campground in Tok is the same one we stayed before where we washed all the rigs. This time only a couple of people washed their rigs. The campground is ok, lots of trees with full hook-ups but no Wi-Fi to speak of. We left the next morning for bad roads and bad campgrounds. Yes, we are back in Canada. The road to Destruction Bay is 225 miles, of which probably 100miles in Canada is 30mph since the roads are so bad. Crazy drivers passing in 18 wheelers or "C" campers, on double yellow lined "road". We were bunched up because of the Canadian customs so the locals were frustrated, I'm sure. The campground in Destruction Bay is located on a small hill and everyone struggled to get their rigs level so the refrigerators would work. We had 30amp service, some only had 20amp, but no sewer and ½ the rigs didn't have water service. They said they are closing down for the winter after we leave. The proprietor said this was the 24th year he had Fantasy Tours stay at his campground. He fixed a great BBQ brisket for us, with a fresh green salad with strawberries and blueberries and his own recipe baked beans and potato salad and home made rolls and peach cobbler. All were excellent.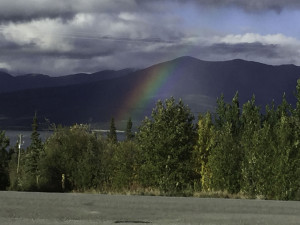 The next morning we woke up to 33 degrees! We left for Whitehorse, same bad roads and the same bad campground we stayed on the way to Dawson City. Can't wait.
If you want to contact us use the form on the left side of the posts and you can check out all the pics by clicking the two dots at the top of the page.
Chuck & Sandy
1574 Total Views
2 Views Today