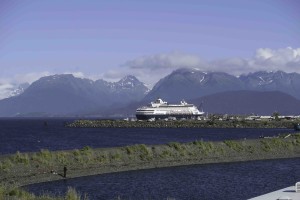 Another 3 days of rain, off and on. It has rained about half of our trip. The drive here from was uneventful, thankfully. A little stretch of road with some narrow parts and no shoulder. Another beautiful drive, in the rain! The F-150 was filthy (so is the coach, but that will have to wait) so we washed it today in Homer. In the rain.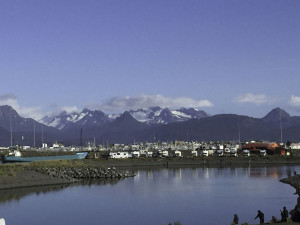 We were hoping to see and photograph a lot of eagles, but Homer banned feeding eagles after the Eagle Lady, Jean Keene, passed away in Jan 2009. No good deed goes unpunished. The Eagles have moved on. Too bad. We saw two on top of a crane, which is the one used for lifting, not the animal variety, and one at the town dump. (A local person said there maybe eagles at the dump if none are in town.) All were hunkered down because of the rain. Hopefully the sun will shine tomorrow but it is raining again now, day 42 in the evening.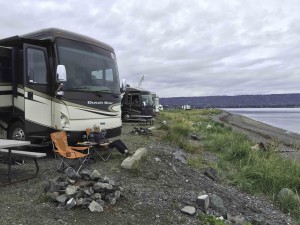 We went on a bike ride today between showers and purchased some Halibut filets. Beautiful filets we hope to cook tomorrow in the sunshine! Tonight we went to a local restaurant where we had Halibut and Salmon for the group. One of the members of the caravan had his 80th birthday today and his two daughters and their husbands flew in from Denver to surprise him. Great fun.
The next day many people were to go Halibut fishing, but the winds were 25-30 mph with 6' to 7' seas. So the fishing trip was canceled. Three of our group went on a float plane / pontoon boat excursion to see bears and eagles. They were successful and the pics were great.
We did some shopping and by the afternoon the sun was shining, but windy on the Spit.
The trip tomorrow is 8-9 hours back thru Anchorage to Palmer, on the way to Valdez.
If you want to contact us use the form on the left side of the posts and you can check out all the pics by clicking the two dots at the top of the page.
Chuck & Sandy
1300 Total Views
1 Views Today