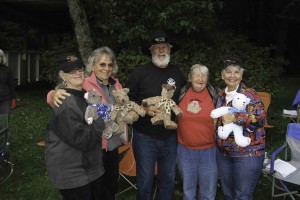 Since we couldn't make it to Dease Lake because of the fatal accident, we had a very long day today, 317 miles in 8 hours. In keeping with our positive attitude, we had a lovely meal at a local hotel in Stewart and bought some fresh groceries at a local store tonight. Stewart BC, population 300, is adjacent to Hyder, AK, population 100.
The second day we went to Hyder AK, a short drive from Stewart, BC. The houses there are all antiques, the roads are some of the best we have driven on out to the Bear Viewing area of the park. Notice we are in Alaska. No bears, but plenty of silver / coho salmon in the water. Beautiful day. High clouds and some sun.
That evening the Fantasy Tour had a Chili cookoff, won by Davis with his hot Texas Chili, the Scraggly beard contest, won by Sam and the contest for who saw the most bears on the trip, won by DJ at 17 bears!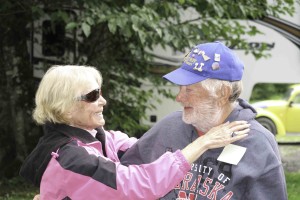 Click Here for pics of Stewart, BC
Tomorrow we leave for Smithers, BC.
If you want to contact us use the form on the left side of the posts and you can check out all the pics by clicking the two dots at the top of the page.
Chuck & Sandy
1671 Total Views
1 Views Today