The capital of Alaska is Juneau. Even the locals admit the capital building is, as they say, 50th out of 50 state capitals as far as beauty is concerned.  Juneau is landlocked as the only way to get there is by boat or plane. There are 150 miles of roads in Juneau but none go out of town. The last time we were here on a cruise, (the same Coral Princess Cruise ship was in Skagway today) we went for a float plane ride in Juneau over the Mendenhall Glacier. Beautiful. It was bright and sunny that day in 2007. Not today.
Today we took a "high" speed, 27 knots, Fjord Express from Skagway to Juneau. About 6 hours total on a boat. We did see some Bald Eagles and a few Humpback whales and some Harbor Seals while on the water. The bus tour took us to downtown Juneau and after a 3 hour lunch and walking tour of downtown, which is nice with art shops and things to buy of course, we were taken to the Mendenhall Glacier.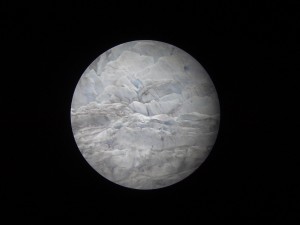 See the pic thru a spotting scope at the heart of the glacier.  It was either raining or heavily overcast all day so the pictures are all a little flat.
At the glacier we walked a wooden plank path to watch Sockeye Salmon spawning in a crystal clear stream down from the glacier. They turn a beautiful red when they are spawning.  Sockeye salmon are semelparous, that is dying after they spawn.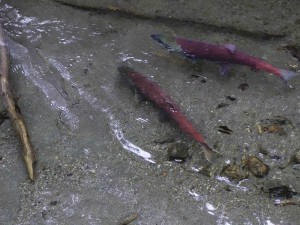 We were gone from Skagway over 12 hours and everyone was ready to relax and sleep. Tomorrow we head back up the mountain to Whitehorse, YT.
Stay tuned and check back often as you never know when you can get internet in Canada.
If you want to contact us use the form on the left side of the posts and you can check out all the pics by clicking the two dots at the top of the page.
Chuck
1361 Total Views
1 Views Today