Cummins in Joplin did a great job replacing the turbo and actuator and the generator expansion tank. We paid for the repairs and Cummins filed the claim with the extended warranty company but when we checked with the company they are about $1,200 short on the payment so this could be a long drawn out issue.
Many thanks to Ron & Patty Richard, Sandy's brother and sister-in-law for housing us for 5 nights and to Sandy's dad, Carl Richard for lending us one of his cars. We got really spoiled with his new Lexus, LS 460. We had many great meals with our family in Joplin and got caught up on all the family happenings. We had long drives with Carl who is a fountain of knowledge about the local area and farming. We also had long conversations with Barry & Terrie Richard as well as the Garvey's in Webb City & Joplin.
We washed the coach, did the maintenance on the hot water system and removed the bidet, which had sprayed several people, including Chuck.
We left today for Hot Springs, AR, staying at Catherine's Landing RV Park.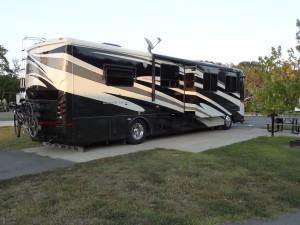 It was highly recommended by some people that we met at the Spartan Owners Training, Steve & Joan Jones. It is top rated by Good Sam's at a 10, 10+, 10, (Facilities, Bathrooms, Appeal), their highest rating. We have not stayed at a 10, 10+,10 campground and it is certainly top notch. Paved driveways and paved parking spots. The Wi-Fi is weak, like about every RV park, so no pictures with this post now. We plan on staying a few days to catch our breath! The weather is hot, 95 with 60% humidity.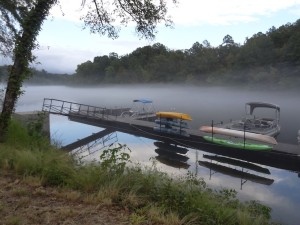 They are forecasting rain the next two days and cooler temps. Fog came in with the rains at night.  With the monsoon storms in Phoenix it is hotter in the Midwest now, but that will change over the weekend. The pictures of the 100 year rain in the Phoenix area are quite interesting. Our backyard, which is on the 18th fairway, is a lake. No homes were even threatened we understand, thanks to good water management planning by Sun City Festival. We will head back to Festival when the weather breaks there, usually the middle of September.
We have decided to stay off of the "scenic" routes. Highway 7 from Russellville to Hot Springs is such a "scenic" road. It has 2 bridges that are for one large vehicle only and we met a logging semi on one of these. Luckily we saw it coming and were able to stop before the bridge and let him pass. Both of us would not fit! These roads are for cars and motorcycles, not RV's.
1310 Total Views
1 Views Today