Again this year we visited The Henry Ford (THF) museum and Greenfield Village. See my writeup from last year in the Archives Posts to the left. THF is one of the best museums in the world, with all methods of transportation represented. From farm equipment to steam engines, automobiles to airplanes and full size trains inside the building.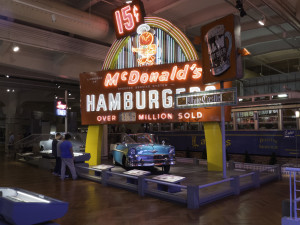 Automobile memorabilia is everywhere also. See the picture of the McDonald's sign over the 1956 Chevy and the diner in the background.
Greenfield Village is an amazing museum in it's own right. Historic buildings from the 1800's and early 1900's are in a village with Model T's running around the streets on 80 acres.
This year we went on Fathers Day and for the last 33 years or so on Fathers Day they have had "Motor Muster", which is a gathering of about 1,000 cars, trucks and motorhomes, motorcycles and military vehicles.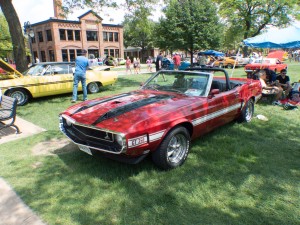 These are the best examples of automobiles from the 1930's to 1970's. Classic Cadillacs to Shelby Mustangs from the 60's.
We have been to a lot of car shows and museums and many of these are the best of the best. Check it out at
Check out a few pics at Click here for Greenfield Village pics
We hoped to go on the tour of the F-150 (our new ride) plant nearby, The Rouge Factory but it didn't work out this trip. Maybe next time.
We have lunch tomorrow with our friends, Roger & Carol Grashel, then Thursday Jun 25th we leave for Coeur d'Alene to meet up with our Fantasy Tours caravan to Alaska. Stay tuned.
If you would like to send me an e-mail click on "contact" to the left under Pages.
Chuck & Sandy
1972 Total Views
1 Views Today