We are visiting Blaine, Mary, Francis (11), Claudia (7) and Colby the dog again this year in Ann Arbor, MI. Attending the grandkids Soccer, Ice Skating and Hockey, and Francis' 5th grade graduation ceremony, see the pic nearby.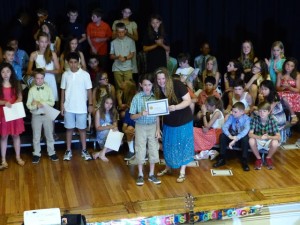 Hard to believe he will be in Middle School at Tappan next year. Francis is still into Ice Hockey, taking conditioning and on-ice training 3 days a week for the Summer. He can really skate backwards as fast as most kids skate forward. He says he wants to play for Pioneer High School when he gets there. He is a wiry little guy and quick.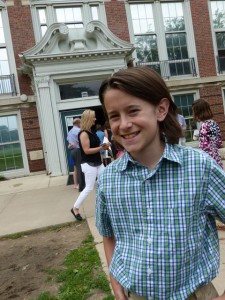 Claudia takes figure skating at the A2 Ice Cube but she is much better at Ice Hockey as she is more the "enforcer" type, if you know what I mean. She has been on ice since she could stand up and plays with her older brother and his friends so she is definitely ahead of most kids her age.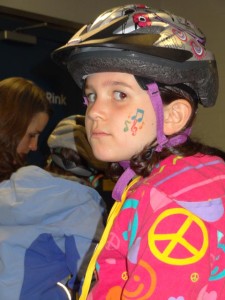 Her soccer skills range from surprising "closing
speed" to run down opponents dribbling the ball to her many shots on goal. One game she scored a goal left footed, had 4 other shots on goal right footed and one of those had amazing power for a 1st grader. In the two games we watched her, today's was rained out, she was one of the two best players on either teams.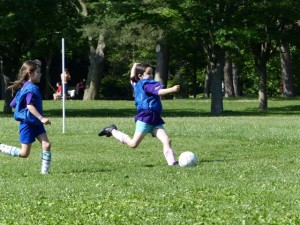 We are staying at the Wayne County Fairgrounds while we are here. Nice place with full hook ups. And it is convenient. Last year we stayed at another campground by a lake but it was muddy last year so I can't imagine how bad it is this year with all the rain. It has basically rained every day since we left Arizona. Sometimes hard, sometimes only at night. We have had only about 4 "dry" days with no rain at some point during the day. I am glad I re-sealed the roof on the motorhome and continue to monitor it. I need to get up on top and remove the old non-working off-air antenna and put on a new King Jack HDTV off-air antenna I purchased for local channels. But, that's not going to happen until we have a few days without rain. And that is not in the forecast anytime soon. Check out the pics at
In case you are not aware, the Federal government won't allow DirecTV or Dish to broadcast local channels more than 100 miles from your "location of record" without special approval. So when you have a satellite system in your RV once you leave your location you don't get local channels. We have applied for the East/West Coast exemption where we can get those feeds but it takes weeks, if not months to approve and get set up. I can't say much about their reception either. It has been raining so much we lose one or two or all satellites and only get a few channels or none, depending on the strength of the rain. That is another reason to have a good off-air antenna.
The new Ford F-150 is working out well, except for registering it in AZ. We sent in all the paperwork and checks for the title, license and registration, only to find out they take 45-60 days to process in AZ. MO, where we bought it, will only give a 30 day temporary tag, and NO renewals. I guess MO can process a title application and issue tags quicker than AZ. When I contacted AZ they said I would have to bring the truck to AZ so they can "inspect" it in order to give me a temporary tag. I guess AZ doesn't believe Ford makes and sells vehicles outside AZ. One typically dumb law if you ask me. After hours on the phone, calls to AZ MVD, level 1, level 2 and supervisors, MO-DOT, the dealer (who also called AZ-MVD), etc., I sent an e-mail to our governor, Doug Ducey, and requested assistance on this catch-22 situation as our temp tag was set to expire in a day or two. I got a phone call back the next day and the assistant promised to look into it, which she promptly did. She called back and said they found my application and had it processed that day. Now I could go on-line and get a 30 day temporary tag while the registration was shipped to our AZ address for forwarding to Blaine's house. Hopefully we will get it all straightened out before we leave for Coeur d'Alene on the 25th. Ah, the joys of traveling.
Comments can be sent via the Pages>Contact form to the left.
1378 Total Views
1 Views Today