The time has arrived. We are in Coeur d'Alene for day 1-2 of our Fantasy Tours Caravan to Alaska.  Day 1 is the rig inspection, the pla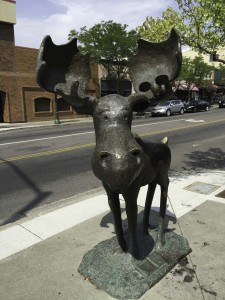 cement of the Fantasy Tours decals on the rigs and tow vehicles and check-in. We received our ID badges and lavalieres and Trip Logbook which gives turn by turn instructions with road hazards, landmarks, fuel stops, and destinations by day.  We had dinner on the first night, stuffed monster Idaho potatoes, with our Wagon Masters and Tail Gunners and everyone in the caravan.  We have already met many in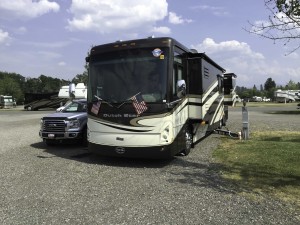 the park and it is sure a diverse group and rigs.  Class A Diesel Pushers, Class B and Class C cab overs and 5th Wheels.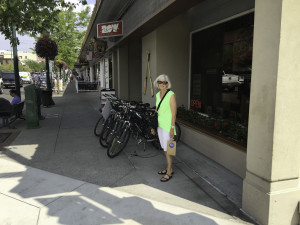 We washed the rig and F-150 yesterday at the RV park and today I waxed the Dutch Star. We also went into town today for shopping and sight seeing. CdA is a beautiful place with lots of eating and watering holes downtown on the lake.
On day two we had an orientation meeting, dinner on the Floating Cedars restaurant followed by  our daily trip planning meeting. Day 3 we head to Fort Steele, British Columbia (BC) crossing the border to Canada as we head up Hwy 95.
To get to this point we have already traveled 5,006 miles from Arizona to Joplin to Ann Arbor to Coeur d'Alene.
If you would like to send me a message you can do so on the left side of the screen. Just click "contact" and follow the instructions.
Chuck
2436 Total Views
1 Views Today