We spent a few days in Branson again this year at the ABC RV park. While there we visited Crystal Bridges in Bentonville. We also went to Silver Dollar City (SDC) for Bluegrass & BBQ with Dennis and Nancy Bivens and their kids and grandkids. Brittany & Jamie and the boys pic is close by. Mitchell & Nicole and their kids were there also. Mel & Mike and Macy didn't make it but were there in spirit.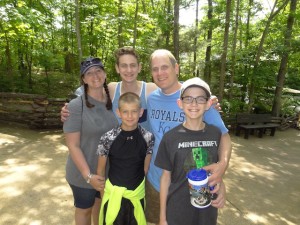 We were trying to remember the last time we visited SDC and decided it was about 35 years ago when Blaine, our son, was about 6 or so. It has changed a lot in the interim. Lots of carnival type rides, places to eat and lots of music and even more craftsmen and things to buy.
Check out the pics
Click to see pics @ Silver Dollar City
Before this visit we used to go with the Thomason side of our family for family reunions at the Allendale Resort, down by the Lake Taneycomo. It is now a parking lot for the Landing shopping area.
We did visit the Bass Pro Shop at the Landing which has great products and prices. We didn't make it to the Bass Pro Shop's Top-of-the Rock this year but with all the rain they had a giant sinkhole next to the golf course that we would have liked to have seen.
We had the Blue Ox baseplate put on the new Ford F150 while we were there and may have to go back to have it corrected after our visit back to Coachlight RV to have the broken slide lock repaired. More fun.
We are headed to MI next to see the kids and grandkids and grand dog and to Charlotte MI to have Spartan service on the coach and see our friends Mike & Marilyn McEvoy.
Stay tuned.
Comments can be sent via the Pages>Contact form to the left.
1099 Total Views
1 Views Today