On Day 3 we did some shopping and visited the Santa Clause House in North Pole, AK. We took some pics of Santa and asked him to talk to Francis & Claudia, our grandkids, and we videoed it. It was a hoot.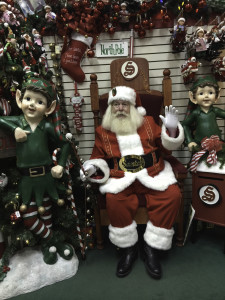 On Day 4 we went via bus to the Ice Museum in downtown Fairbanks. Sounds hokey but turned out to be somewhat interesting. They presented an older video about the International Ice Carving competition every year at the end of February. These are with huge ice blocks, 3ft cubes, harvested from the Chena River. It is amazing what they can make out of cubes of ice in 2 days for 2 people or multiple cubes for 4 people in 4 days. We then went into an ice chamber where there were ice carvings, an ice slide and ice bar. Then we went watched the owner carve a flower in a small ice cube in about 10 minutes. See the pics in Flickr.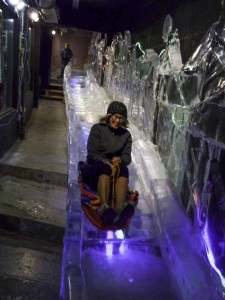 Afterward we went to the Riverboat Discovery III and had a nice lunch with about 200 of fellow travelers. The paddle wheeler is the third and newest in the paddle wheeler fleet. The Captain was a third generation riverboat captain, dating back a half century. We were amazed at the number of high quality houses built on the Chena River as we paddled down stream. There was a floatplane demonstration, as well as dog sled demonstration at the Susan Butcher Kennels, using a 4wheeler as the sled. Susan won the Iditarod dog sled completion 4 times before she passed away from cancer. Her husband and daughter keep up the tradition and training dogs at the kennel. We stopped off at the Chena Indian Village we did a walking tour of thru an Athabascan Village, the way it has been for centuries. Of course there were the obligatory selling hall with a minus 40degree room where you can go and get your picture taken as you freeze. All in all, a fun day.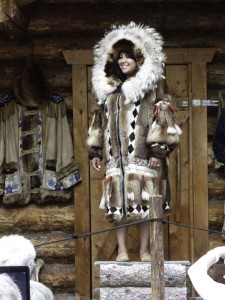 When we returned to the coaches it was pouring rain. It let up and we had our travel meeting and Root Beer Floats.
Tomorrow we leave for Denali National Park. Stay tuned.
Click here for Fairbanks day 3 & 4 pics
If you want to contact us use the form on the left side of the posts and you can check out all the pics by clicking the two dots at the top of the page.
Chuck
1420 Total Views
1 Views Today