What can you say. Magnificent. It is also very hard to photograph the grandeur. We traveled the Going to the Sun Highway which starts in West Glacier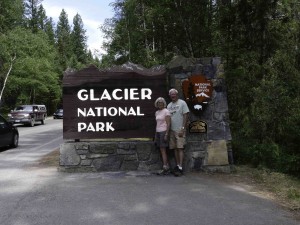 and goes 50 miles up and over Logan Pass and down to St. Mary's where we had dinner.  We traversed this road over and back. Most of the road is good, but there are places where our truck and another truck or the Red Bus were very close quarters with rocks jutting out of the mountain. There are many places to pull of and take pictures, although not all are picturesque. There are waterfalls, glaciers and trees, lots of trees up to the tree line.
We came back the second day and did a trip toward Polebridge and Bowman Lake but it turned to a loose gravel road and people were flying on it so we turned back and did some hiking in the valley thru the Trail of the Cedars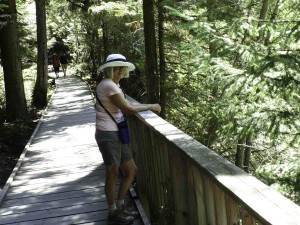 and took some pics of the Sacred Dancing river which flows into Lake McDonald. The waters are turquoise and amazing.
All in all a great visit and we will probably come back when it is not so crowded and the leaves are turning.  We are headed back toward Coeur d'Alene tomorrow to meet up with our Alaska Caravan. Stay Tuned.
Click here for my Flickr Glacier National Park pics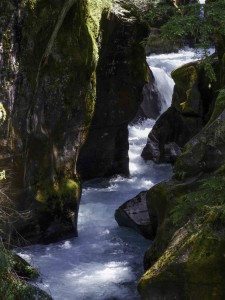 1110 Total Views
1 Views Today