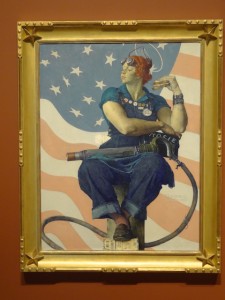 Crystal Bridges, Bentonville, AR
We are in Branson MO and had a side trip, 2 hours each way in the rain, to Bentonville AR to go to Crystal Bridges. Check it out @ www.crystalbridges.org
This is one of the best kept secret museums, buildings and grounds and artwork, that we have visited. The building and grounds are very modern and well maintained and the artwork is some of the best. My favorite was Rosie the Riveter by Norman Rockwell. Sandy liked the disks on a wire.
See the pics at
Click here to see pics of Crystal Bridges
If you are ever in Northwest Arkansas this museum is definitely worth the visit. And the permanent artwork and grounds are FREE, thanks to WalMart. The traveling exhibits are an upcharge. Also, you can download a free App for your smartphone and listen to talks at varios
stations by the art works. Just search for Crystal Bridges app.
Comments can be sent via the Pages>Contact form to the left.
1180 Total Views
1 Views Today