We left Paradise RV in Sun City AZ and headed to Joplin MO on May 1st. On the way we stayed at one not so nice but highly rated RV park in Payson AZ and a really nice park in Oklahoma City / Yukon, Mustang Run RV park. We are sure glad we signed up for the Oklahoma Pike Pass for the motorhome so we don't have to stop at every pay station. If you travel Oklahoma, get a Pike Pass for a car or truck or motorhome. Very easy and quite a time saver.
It has basically rained every day since we arrived in Joplin, MO, and we are not used to that. Heavy storm one night with a tornado touching down in a town about 30 miles away. Mother Nature put on a good light show that night. We are staying again this year at Sandy's dad's place, Carl Richard.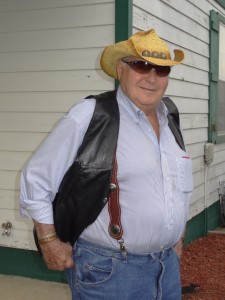 (pic nearby) He lives on a Lake just north of Joplin and has a 50amp hookup and great water. We have enjoyed our time here visiting with Carl and relatives, driving around viewing properties and listening to Carl's stories, fixing things around the house and the motorhome and buying things for the new truck. We also decorated graves for Memorial Day with my cousin Dennis & Nancy while we were here. See my sister's grave pic nearby.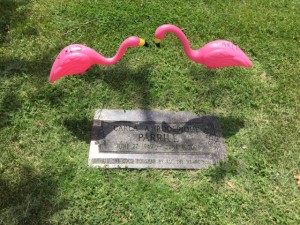 The Tow Dolly, a Demco Kar Kaddy SS which is rated the best, turned out to be a pain. The Toyota didn't like it either as all the dash warning lights stayed on when we started it each time. I had to go online and find a video to show me how to shut them off with a sequence of pushing buttons and turning on the key.  So we bit the bullet and traded for a 2015 Ford F-150 4×4 5.0l v8, Crew Cab (the aluminum body) so we can pull it 4 wheel down behind the motorhome. Nice truck but far fewer niceties (read options) when compared to the Camry (or Sandy's Lexus RX330) and for about 30% more cost, let alone ½ the mpg. Since all the RV repair shops have to have at least a 3 week lead time (schedule your breakdowns!), we are having the baseplate put on the F-150 in Branson next week.
No one ever said motorhomes are inexpensive. Our rear roof A/C quit while we were in Paradise so we had it replaced in Carthage MO. (scheduled with Coachlight RV in Carthage MO 3 weeks out before we left Phoenix). When they were servicing the slides one of the lock arms broke. This one is behind the refrigerator, which has to be pulled. Much more work than when we had the other lock arm replaced on the opposite slide in Phoenix. So we will have to come back from Branson to Carthage to have it repaired (again 3 week scheduling!). Hopefully the 3rd party warranty company will pay for this too as they paid about 70% of the roof AC last week.
We are scheduled to go to Branson with my cousin, Dennis & Nancy Bivens, and stay again at ABC Campground, we stayed there last year and it is a nice park. We are arriving this Friday and will stay until we have to return to Carthage the following Thursday for the lock arm repair.
After Branson and the coach repair, we are headed to Michigan to see the kids/grandkids/grand dog, and go to Spartan for yearly chassis maintenance where we are hoping to meet with our friends Mike & Marilyn McEvoy as they are having Spartan chassis service at the same time.
Stay tuned for further updates and our Caravan to Alaska in July.
Comments can be sent via the Pages>Contact form to the left..
Chuck
1385 Total Views
1 Views Today