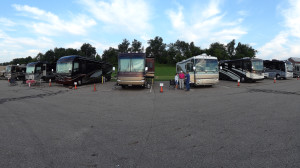 Portable Water Filters. Several of our friends in Sun City Festival are in the RV club and offered much needed advise and tips, mostly from Ed and Larry.  Larry showed us a portable water filter system he put together from 3 household water filter canisters with 2" filters of various decreasing filtration size. They are held together with short metal pipes and a short lead to the water spigot. He said, and others, that the campgrounds sometimes do not have the best, cleanest water and you don't want rust in your fresh water tank. Since our coach has a built in house filter with a 2" charcoal filter, we decided to go with a 2 filter portable system. He had suggested to get clear filter canisters so you can see the rust/sediment build up and so that is what we did. The first night we filled up the 30 and 5 micron filter with rust and had to change both! Thanks Larry for the tip.
Second and third nights on the road.  Every day is a learning experience, whether it is water management (clean, gray or black water), hot water, electricity, levelers, etc. We were told, and confirmed, the campgrounds, especially KOA's, do not have very good Wi-Fi. TengoInternet sucks. In fact, only the Indy KOA had a Wi-Fi that worked well. We also found out the owners manual from Newmar is meager, to say the least. We received the component manuals, like washer / dryer (Whirlpool), TV's (Samsung), Microwave and Refrigerator (Dometic), generator (Onan), hot water system (Oasis), hydraulic leveler (HMH), Engine (Cummins IS-L) and automatic transmission (Allison 3000), etc. We didn't receive a Newmar "coach" manual when we bought the coach, so we had to download the manual on our Mac laptop. In reading the Newmar manual it basically defers to the component manuals. We have gotten very little information out of the Newmar manual, only how to leave the steps out without closing every time you go in or out of the coach. If you buy a new Newmar coach and pick it up at the factory in Nappanee, IN, they assign someone to answer questions for a week while you "dry camp" at the factory. Otherwise they rely on the dealers to do the initial training. Since we purchased from an individual they pretty much just showed us a few major items and that was it.
One thing we found out by trial and error, which is not documented, is you cannot have the coach on "shore" 50 amp electricity to level the coach with the hydraulics. Tiffin suggests the coach be running to level, and others you can have the shore electricity plugged in, but not our coach. It cannot be on Shore 50amp nor have the engine running to level the coach.  Just put the key in "accessory" and place wood blocks if there is grass underneath or un-level to begin with, and hit the auto level button. We found out at Spartan that there is some wind-up in the suspension so when you start the leveling process and "dump" the air, the coach will move forward a few inches as it un-loads the suspension. This is normal.  After that you can put down some wheel chocks if you want.
1160 Total Views
1 Views Today