Again this year we went to Spartan Chassis in Charlotte MI for our annual maintenance. Last year we were here in August after we bought the 2008 Newmar Dutch Star 40' diesel pusher for a week long Chassis Class & Driving School. Check the post from last August. This year the only real repair was a "wondering" steering feel, so they replaced the tie rod ends (just like my 1966 Corvair!) and that took out about 90% of the problem, just like the Corvair.  The other items were minor and just routine maintenance. Diesel Pushers as they are known, do require maintenance, and it is expensive. Ours uses almost 7 Gallons of oil and about 5 filters of various sizes and functions.
We scheduled the visit at the same time as our friends, Mike & Marilyn McEvoy, from Goshen KY & Palmetto FL. We shared stories about RV travels, NPC where we worked together, and mutual friends. M&M are great to be with and we laughed a lot at the stories. They have a Newmar Mountain Aire that is in great shape. See the pic nearby.  I know it is a struggle to keep them in tip-top shape, as well as expensive. Several meals were shared as well as some adult beverages.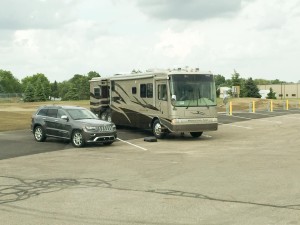 M&M were off to Grand Rapids MI for some Newmar coach maintenance, then on to Canada, back to Maine for a caravan to the Canadian Maritime Provinces.
After our service was completed we left for New Hudson, MI for Cummins generator service, which turned out to be a rebuild of our generator, even though it only has less than 300 hours over the 7 years. Hopefully the 3rd party warranty company will fix this also but we are sure getting our money out of the contract.  Between the turbo going out last year and the Generator this year I can't say too much about Cummins products, although the Cummins dealers in Joplin MO and New Hudson are top notch with great service and personnel.
We stayed at the Haas Lake RV Park near Cummins in New Hudson, MI.  Nice park surrounding 3 lakes with 400 campsites.  We are awaiting parts as of this writing and will have to go back for the rebuild, hopefully before we have to leave for Coeur d'Alene and the Fantasy Tours to Alaska in July. M&M did the Alaskan Caravan with Adventureland Tours 2 summers ago and regaled us with stories and pictures from their trip. We are getting excited as the time is approaching.
Comments can be sent via the Pages>Contact form to the left.
1196 Total Views
1 Views Today