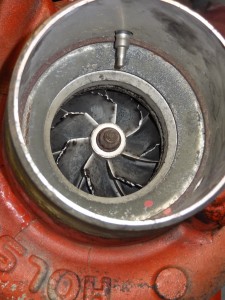 When we were at Spartan they did a 40+ point inspection for us.  I was getting a "stop engine" light when I turned on the key but it went away after a couple of tries. So Spartan noted a Cummins fault code, 2449, which is a failure of the actuator for the variable turbocharger. They thought it just needed a "re-flash" of the computer but we had to go to Cummins to have that done.
So I made an appointment at Cummins in Joplin on the way home.  They did the inspection and analysis and determined it was a turbo/actuator issue. They took the air cleaner system off and checked the turbo and found the real problem that was causing the actuator not to work. The turbo had ingested something and ruined the blades on the incoming air side.  See the picture. Since we had the coach serviced when we bought it in July, it had a new air cleaner. We don't know when the turbo was ruined as the current air cleaner and intake system didn't have any issues. Hope whatever ruined the turbo blades made it thru the engine without causing other problems down the road.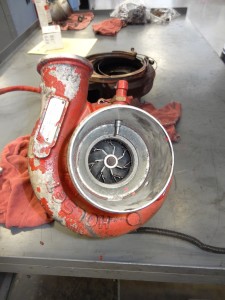 We don't have enough experience to know if the coach was down on power or not. It doesn't have enough power in the hills, haven't been on any mountains yet, but seemed ok to us.  Hopefully it will run a lot better with full fins on the turbo!
Also, our generator would not keep running and I had talked to Massey about that but they didn't have any ideas. It turned out to be a wire that had come off. However, when we had it serviced at Massey we had a antifreeze leak that they fixed with a new hose clamp. Turns out the holding tank for the antifreeze has a crack. So they are replacing that too.
Hope to get it back Monday or Tuesday. We had purchased the extended warranty from the previous owners and the transfer was approved by the company. So, the real hassle will be getting the Warranty company to settle up. They sent a third party inspector to check it out and he agreed the turbo was bad. So we will see.
1796 Total Views
2 Views Today