Finally some decent TV and internet at the Riverside RV Park. The water is not great and they allow smokey fires. We haven't had DirecTV since Calgary. We thought it was because of the mountains or the position at the campgrounds, but when I called DirecTV about it a couple of weeks ago we were told "We cannot legally beam a signal into Canada." Interesting because the coaches with Dish Network had signal all the way to Dawson City. So keep that in mind if you head North. The satellite dishes in Fairbanks are large round ones and they do not look like Dish nor DirecTV dishes, and appear to be pointed at the ground!
As for Sirius-XM, we can get some signal in the Ford F-150 depending on the location, direction and height, like at The Dome in Dawson City, but the Dutch Star has not had Sirius signal since upper BC, let alone the Yukon or Alaska. Go figure as the coach is definitely taller but the expensive Pioneer radio / SiriusXM / DVD / bluetooth unit the previous owner put in is not very good, has a weak antenna and only goes to channel 199 so we don't get the golf channel.
Today we took a bus to Gold Dredge #8 just north of Fairbanks and viewed the Alaska pipeline where it transversed in front of the gold dredge. The amazing 48″ diameter pipeline was built from 1975-77 at a cost of $8billion. It extends 800 miles above and below ground, where it can, from Prudhoe Bay on the north shore of Alaska to Valdez on the south shore where it is loaded on tankers. I'm sure everyone remembers the oil spill in Valdez. We will check out Valdez in a few weeks and report on that area. The pipeline is heated to keep the crude oil flowing, thru 12 pump stations, half of which are not used now. The flow rate peaked at 2.1million barrels per day of easy light crude to a current 500,000 barrels per day due to the heavier crude.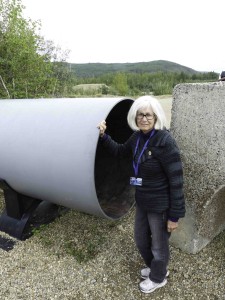 We then took an open narrow gauge train with a seasoned entertainer playing old time favorites with a guitar and fiddle. He opened for Johnny Cash when he toured Alaska many years ago. The train takes a short ride to the Gold Dredge #8. It is a medium sized dredge that went out of business in the late 60's because of the Gold Standard where they had to sell only to the US Government at $35 per ounce, but the cost kept accelerating to the point it was no longer profitable. With gold currently at $1,100 per ounce why don't they start the dredges again you ask? OSHA & EPA started about 1970 and the dredges would not meet the standards.  The miners are back now but smaller operations with newer equipment that are OSHA & EPA compliant like backhoes and breathing masks. We were given a small burlap bag with some soil and rocks and hopefully gold. Sandy & I panned in a heated water trough and seats, unlike Chicken's panning operation, where we panned $27 worth of gold out of our bags.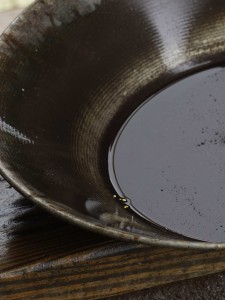 One couple in our group did $37 worth. Of course you can put that gold into earrings or necklace with the gold in a round vile. Or  you can just buy gold earrings or necklaces already made.  They sure know how to mine the miners as we say. A fun morning.
In the afternoon we took the bus to the University of Alaska museum. Crystal Bridges it is not, but it did have some interesting history and artifacts and art from Alaska.  After we got back we took the F-150 to downtown Fairbanks on the way to restock fruits & vegetables and other items. Downtown is a mess with lots of construction and detours. Not a fun drive.
Click here for Fairbanks day 2 pics
Tomorrow is a free day with some going to the Arctic Circle, either by car or flight seeing. We plan on going to an RV store for some hydraulic oil and other items and do some work on the motorhome. We will probably visit North Pole, AK, while we are here.
If you want to contact us use the form on the left side of the posts and you can check out all the pics by clicking the two dots at the top of the page.
Chuck
1250 Total Views
2 Views Today