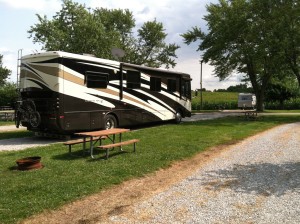 We were told by most of our RV friends that we should go for an overnight somewhere close to home to iron out the bugs and learn the basics. Because it took over 3 weeks to get everything ready, from cleaning, maintenance and tires, we decided because of the excessive heat, to just to get out of the Phoenix valley. We tried to trade our Toyota Camry Hybrid for a Jeep or other 4 wheel drive that could be flat towed, 4 wheel down as it is known. We couldn't find one that we liked or the dealers wanted to give us hardly anything for the Camry, so we ordered a Demco tow dolly that we could tow any front wheel drive vehicle, or the Corvair backward as it is a rear wheel drive, rear engine. (We will have to tie up the steering wheel so it doesn't wonder).
The maiden voyage.  We had initially planned on our first motorhome trip to the Corvair Convention in Tacoma WA, then work our way over to the Spartan Chassis factory in Michigan for an owner training class, then on to Ann Arbor to see the kids/grandkids. Because of the time to purchase the motorhome and get it ready for the road we had to cancel the trip to Tacoma and decided to head off to Michigan.
The First Night.  We decided at the last minute to not to take the tow dolly and Camry on our maiden voyage. Too much complexity not having any experience driving the 40' coach, (other than around Phoenix for all the maintenance / tires, etc.) let alone with another 20' hanging out behind. In hindsight, that was a wise decision. We mooched rides from relatives and borrowed our old Acura CL Type S (still a great car even with 113,000 miles) from our son Blaine in Ann Arbor.  Setting out we didn't want to go up the racetrack, I-17 between Phoenix and Flagstaff, which goes from 1,000 foot elevation to 6,000 ft., to 3,000 ft. to 7,000 ft. in Flagstaff. So we decided to go the back way up US 60 highway thru Wickenburg to US 93 to I-40 near Kingman. Then head East on I-40 to Flagstaff at a gradual incline and spend the first night in Holbrook, AZ, at a KOA. The road from where we got on I-40 East from US 93, to Flagstaff is one of the worst stretches of road we have traveled so far. Since the tires were over inflated, explained in another blog, we were really, really bounced around. It really was like a rolling earthquake on wheels.
1101 Total Views
1 Views Today