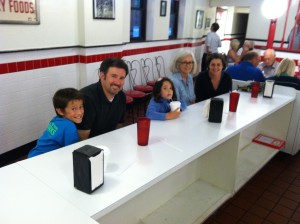 Ann Arbor, MI – July 30 to August 28, 2014, with a break for Spartan Owners Training.
We spent 4 weeks off and on with the grandkids, Francis (10) and Claudia (6) while Mary was setting up for her new Kindergarten Class and Blaine was working. The first night, and many other nights were spent having Ice Cream! Many days were filled with sports camp, ice hockey, playing with friends, trips to Greenfield Village and the Henry Ford Museum. They had a sleep over one night but the motor coach was too strange, after S'mores, fires with smoke and blinking lights in the coach.
The visit was interrupted by a trip to Charlotte (pronounced Char-LOT), just south of Lansing, MI, for a week of training on the Spartan Chassis and driving school. More about that later.
Check out the pics @ https://www.flickr.com/photos/chuck_roderique/sets/72157646429536352/
1149 Total Views
1 Views Today