Denali National Park. We got up at 5am for a 6:40am departure on a converted Blue Bird school bus, run by concessionaire Aramark, 56 miles thru Denali National Park. The park road is 90+ miles long, and the park itself is 6million acres. It was cloudy and smoky when we arrived the night before in Denali. However, today was beautiful blue skies with puffy clouds and we were able to see beautiful vistas, Mount McKinley with and without clouds and many animals.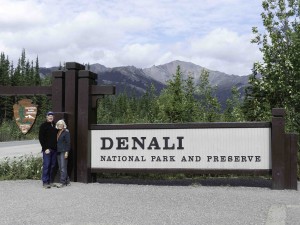 We saw several grizzly bears, a wolf, a moose, many Dall sheep, caribou and golden eagles. Most were at least a mile or more away so they looked like white dots on the mountainside and hard to photograph. One caribou and one grizzly were walking down the road toward us and I was able to get a close up of the caribou but not the grizzly. Full Mt. McKinley is only viewable 30% of the time so we were lucky on the day we had the tour. It was a beautiful sight, even though it was a full 38 miles from our final viewing point. The temperature when we started out was a brisk 38 degrees F and warmed up to the 70's by the end of our 7½ hour trip. The box lunch was meager but everyone enjoyed it and the supplements our Wagon Master brought.
The driver / tour guide was interesting, very knowledgeable and had many facts and legends to tell us about. He has been in Denali for many years and obviously enjoys what he does. One interesting fact was the grizzlies are smaller, only 600-700 lbs, than those down by the Pacific Ocean because up here they dine on berries and the spring meats, and the coastal grizzlies dine on Salmon and fish which are much more nutritious. Since Denali National Park was one of the last NP's to be established they changed the rules where you had to take a bus ride to view the inner park. This is good and not so good. Yes, it does cut down on traffic and you get a guided tour, but you can't stop when you want to enjoy the scenery or wildlife, and many times you have to view thru not so clean windows. All in all, the tradeoff is probably worth it. One feature we enjoyed was about every third row on the bus had a drop down video screen and the guide was very adept at finding wildlife and quickly zooming in and focusing on the wildlife, then zoomed out to where you could get your reference as to their location.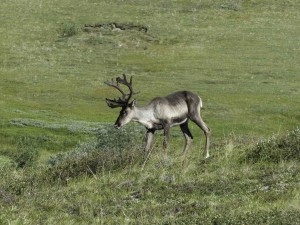 We had Salmon Taco's on the boardwalk that we enjoyed and later had our travel meeting for our next trip to Anchorage.
Saturday is a free day and many are going rafting, or flight seeing which we passed on. We will do some more exploring and maybe a bike ride if I can clean them up and oil the rusty chains. LOL.
If you want to contact us use the form on the left side of the posts and you can check out all the pics by clicking the two dots at the top of the page.
Chuck
1388 Total Views
2 Views Today