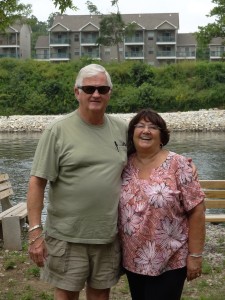 We visited Branson, MO, twice, on our first adventure. When we left Joplin we visited John & Elsa Gray in Nixa MO on our way to Branson. They have just built a new house and we haven't seen them in a year so it was great to catch up with them.  John sold his practice and their loft apartment in Joplin, and he went to work for the NHS on an Indian Reservation in AZ for 5 years. Elsa and my deceased sister Carla were best buds for many, many years.
We met Dennis, my twin cousin, & Nancy Bivens, picture is left, in their condo on Fall Creek in Branson.  Dennis retired this year and they are settling into life after full time work. We are "twin" cousins as his mom and mine were twins and we grew up in the same house for a few years and have stayed close since. He could out run me in track but I could kick his A$$ in basketball. LOL.
Our extended families, Thomason & Roderique & Bivens, held many family reunions in Branson over the years. Branson has gone from a sleepy trout-fishing town below the dam to an entertainment capital. The roads are jam packed on Highway 76 so we take the red, yellow and blue routes around town, or go south to College of the Ozarks and cross the dam by Chateau on the Lake to get around town. Today we found a local back road off of 76 to get down to Bass Pro Shops White River Fish House for a late lunch.  It is easy to get lost here and I did twice yesterday!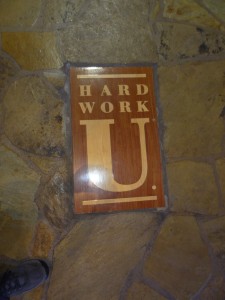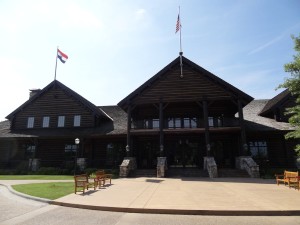 College of the Ozarks.  "Hard Work U" as it is known, is a must visit when you are in Branson. This is a working college. You have to work your way thru the college and is a great learning experience. Their restaurant is great and has great deserts, cooked and served by students. Lots of history here.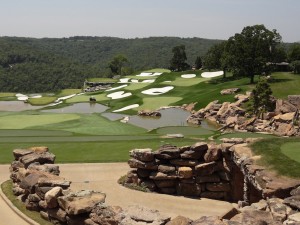 Top of the Rock & Big Cedar Lodge. Wow, what a place. Johnny Morris, owner of Bass Pro Shops, built a magnificent golf course, club house with dining and wine experience just south of Branson, next to his Big Cedar Lodge. It took years to construct and multi million dollars, and you can see why when you look at the pictures. Huge boulders mined and move for years. Jack Nicholas, Arnold Palmer and Tom Watson designed golf course, with a 16 target hole driving range. Arnie's barn is actually transported from Arnie's boyhood home. Everything here is authentic. Wood beams, Woolly Mammoth and Short-faced Bear skeletons, Civil War canons, Fantastic dining with a great view of Lake Taneycomo and Branson. The wine cave is second to none in looks and wines. Everywhere you look there is detail, from iron grates for air conditioning outlets to bears on display. Many weddings are held here at the 1800's stone church and you can see why. Carl Richard, Sandy's dad, and Ron & Patty Richard came by and we had the Sunday buffet lunch at Top of the Rock. Outstanding.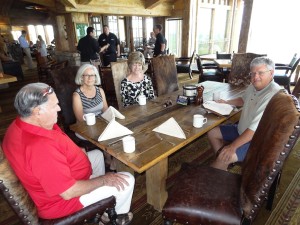 We have gone to many shows over the years, from Andy William's Christmas when he was alive to Shoji Tabuchi to other Ozark singers and dancers, Shepherd of the Hills and of course Silver Dollar City with their crafts fair in the fall and the cavern.
Branson is always changing with new shows and lots of mini-golf courses for the kids. Great places to eat, even in old downtown Branson and plenty of ice cream to go around!
Check the pics @
https://www.flickr.com/photos/chuck_roderique/sets/72157646840546889/
1439 Total Views
1 Views Today